Four Winds is dedicated to helping each resident realize his or her full potential. Activities range from the educational, therapeutic, and vocational to the recreational and cultural.
The activities include:
| | Organic gardening program | Apple picking and cider pressing |
| --- | --- | --- |
| | Woodworking program | |
| | Farm program | Domestic home skills & household chores |
| | | Physical fitness |
| Working with our dogs | Bread baking program | Community service |
| Sporting events | Candle making program | Cultural outings |
| Silk painting | Festivals | |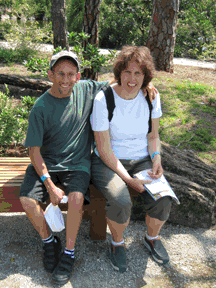 Life at Four Winds follows a daily rhythm and varies with the seasons. Winter brings snow shoveling; in Spring we clear the land and plant; Summer is filled with gardening, picnics. barbecues, and other outings; with Autumn we have apple picking, cider pressing, and as fine a Fall color show as one is likely to find anywhere in the world.
You gain strength, courage, and confidence by every experience in which you really stop to look fear in the face. You are able to say to yourself, "I have lived through this horror. I can take the next thing that comes along.". ~ Eleanor Roosevelt
From community service projects, to meeting friends at local dances, to working out at the health and fitness club down the road, participation in social, cultural, and recreational activities is an essential element of the Four Winds program.
There's often a movie to see at the drive-in, a concert to attend, or a country fair to wander through. A day trip to Boston might mean taking in a Celtics game or visiting Symphony Hall. And there's nothing quite so warm and cozy as gathering round a campfire during an overnight at one of the neighboring state parks, especially after a hike through the New Hampshire woods or an invigorating swim in a cool, clear mountain lake.
"The chemist who can extract from his heart's elements compassion, respect, longing, patience, regret, surprise, and forgiveness and compound them into one can create that atom which is called love." ~ Kahlil Gibran
But, of course, home life is the heart and soul of the Four Winds experience. Meals are all served family style— everyone shares in the preparation. Fresh produce from the Four Winds garden contributes to a healthy, nutritious, balanced diet, and every meal begins with a blessing.
We observe holidays and festivals throughout the calendar year. And, while loving attention is paid to the spiritual welfare of every member of the community, Four Winds is nondenominational and enriched by the diversity of our multicultural society.