Since ancient times, music has been known as a healing art. Its healing power has touched most of us at some point in our lives. It touches a deep chord within us. It speaks in a language that is universal and yet beyond understanding at the same time.
We have weekly music therapy sessions from September through April. Our music therapist is Julianne Weeks from Temple, NH.
Juliane has been doing music therapy with us since 2002. Our residents greatly benefit from Julianne's caring and therapeutic approach.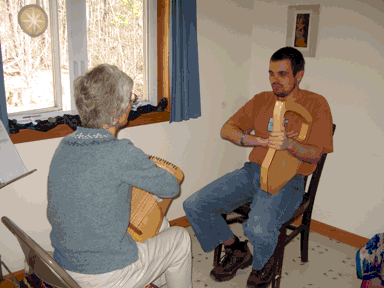 Therapeutic Aspects
This therapeutic approach can be beneficial for anyone at any age. Individuals who suffer from depression; immune deficiencies; acute or chronic states of illnesses including cancer; disturbances in the respiratory tract, such as asthma; and others that affect the breathing of body and soul may benefit from music therapy that is designed to their particular needs. Aside from that, working with children with behavioral or developmental issues has shown positive results, especially with those who, due to a heightened awareness and awakeness in the nerve and sensory realm, lack the integration that is needed. Here, the music can create a safe haven in which the soul can feel reconnected with its home and find a source of strength from which it can draw. "Children blossom forth in their whole being when their souls are warmed, strengthened and developed by music. Music is a food from heaven for the soul of man." [H. Walter, MD, "Music as a Means of Healing"]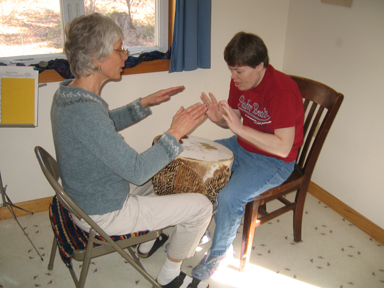 Melody, tone, rhythm, intervals, etc., are the elements which, combined and creatively applied, aim to support this realignment on the deepest level. Through this musical "fine-tuning," a growing sense of well-being and harmony can be gained. In singing, toning, and playing various instruments, the individual becomes creatively engaged in the process itself. In this active involvement, a deepening of the capacity to listen, and a sensitivity and refinement in the social realm are cultivated, qualities that are so significantly threatened today.
Juliane's Viewpoint
My interest in music therapy began at the age of 21, when I was asked to work with a young child who had what today is referred to as Autism Spectrum Disorder. This seven-year-old girl opened my eyes and ears to the magic of music as a medium of communication, as bridge not only between one human being and another, but also to worlds beyond and to the cosmos itself. This encounter planted the seed of what was later to become my path and work as a music therapist.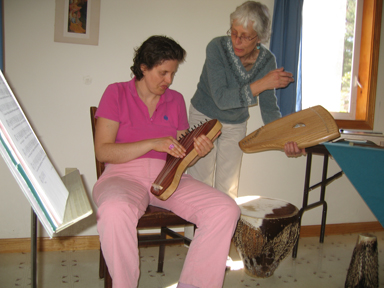 My work as a music therapist grows out of the study and insights into the human being offered through Anthroposophy. A view of the individual as a divinely created "musical" being underlies the work of Anthroposophical Music Therapy. Illness, trauma, life itself create dissonances that disturb the wholeness of body, soul, and spirit. The aim of music therapy is to support the process of healing musically in such a way that the restoration of balance and wholeness can become possible.
"Anthroposophy is a path of knowledge aiming to guide the spiritual element in the human being to the spiritual in the universe." ~ Rudolf Steiner
Through the encounter with the individual, by attempting to listen into his or her being, what is needed musically can reveal itself. This collaboration is key. Each individual participates in the journey we undertake. Our language is music: the tones, the rhythms, the harmonies that--awakened through the sounding of the bells, lyres, and chime bars; the bowing on the chrotta; or the rhythmic beat on the drums--connect us, in sacred and playful ways, with our human essence, with one another and with our cosmic roots.
More Information on Juliane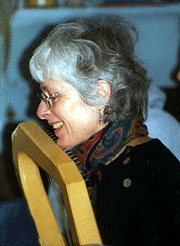 Juliane Weeks received her Diploma for Anthroposophical Music Therapy from the Medical Section of the Goetheanum in Dornach, Switzerland. She did her internship at the Husemann Klinik for Psychiatry in Freiburg, Germany, and had the opportunity to offer music therapy to patients in the United States at the Rudolf Steiner Clinic in Ann Arbor, Michigan. As a certified Music Practitioner, Juliane has offered her services to hospice settings and has volunteered in nursing homes and in the local hospital. For many years, she has been involved in the music- and social-therapeutic work with adults with disabilities in addition to her work with children at the Pine Hill School in Wilton, New Hampshire, and the Monadnock Waldorf School in Keene, New Hampshire.
She works privately in southern New Hampshire with individuals of all ages and abilities. She has been involved for many years in the work of lifesharing communities, both as caregiver and music therapist.
Juliane may be contacted at juleweeks1@gmail.com.