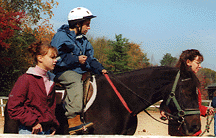 Every year all Four Winds residents participate in a special therapeutic riding program called Horse Power at Pony Farm in Temple, NH.
We attend two ten-week sessions of therapeutic horseback riding, one in the spring and one in the fall.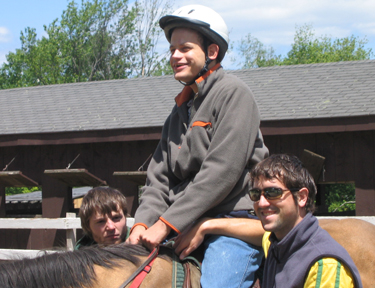 Therapeutic Aspects
Horseback riding is recognized as one of the more progressive forms of therapy. The ability to control a horse as well as one's own body inspires self-confidence, responsibility, and teamwork. From the beginning, our residents learn balance, coordination, and self-assurance while receiving therapeutic muscle stimulation.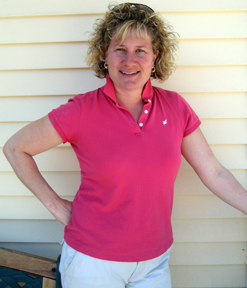 Therapeutic horseback riding improves poise, posture, strength, and flexibility. It is a thoroughly enjoyable experience that creates a special, healing relationship between rider and horse.
Horse Power has been designated a Premier Accredited Center by NARHA, the North American Riding for the Handicapped Association. NARHA accreditation must be renewed every five years through a stringent on-site accreditation process.
Terri's Viewpoint
Since 2000, I have been giving therapeutic riding lessons to Four Winds Community residents every spring and fall. It has been wonderful to watch each person's independence and sense of freedom increase over the years.
No matter how tiring my week may be, I always look forward to my Friday sessions with the Four Winds residents as a special treat. I always feel appreciated, and I enjoy the unique friendships that have developed.
My work with Horse Power is far more than a job--it's a soul-enriching experience.
More Information on Terri
Terri Devlin, Horse Power's Program Director and Volunteer Coordinator, is a lifelong horsewoman who has two horses of her own. She lives in Jaffrey, New Hampshire, with her husband and daughter.
Terri is a NARHA Advanced Therapeutic Riding Instructor. She is also the New Hampshire State Chair for NARHA and an On Site Workshop Evaluator.
Terri believes strongly that animals and humans form a special, therapeutic bond. Through the work she loves, she hopes to expand the circle of people whom she can help to experience this bond.
Terri can be contacted at terridevlin@horse-power.org.